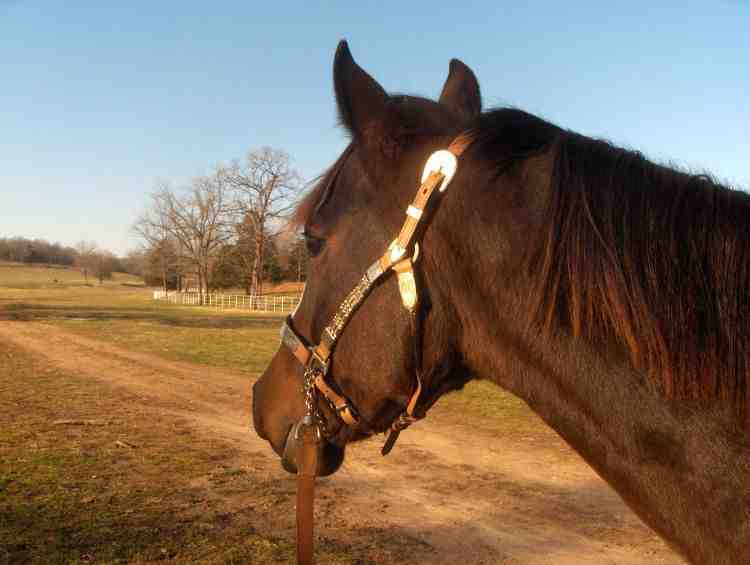 Al Dunning talks about his career as a horse trainer.  You can find Al at his website www.aldunning.com and on his Twitter feed in the sidebar of this interview. 
What do you do for a living?
Quarter Horse Trainer, Clinician, Tack Business, Horse Sales
How would you describe what you do?
I live and breathe horses. I train and show AQHA, NCHA Cutting, and Reining Horses. I also do clinics world-wide to teach riders and trainers how to train and show.
What does your work entail?
I ride approx. 12 horses daily and compete extensively, mostly in the Western states. I am focused on cutting horses but have shown almost every event.
What's a typical work week like?
We get up early, saddle, water the arenas, work them with the tractor, ride, give lessons, do office work, repair various things on the ranch, doctor cattle, wash and prepare the trucks and trailers, clip and bathe horses, feed, clean, and go show.
How did you get started?
My sisters rode when I was young and I watched. When I was 12, I took lessons and started showing. I competed through my college years, then decided to become a professional when I was 20.
What do you like about what you do?
I like the work, the horses, and the life style. Being a cowboy and having cowboy standards, believing in America, Mom, and apple pie.
What do you dislike?
Sometimes dealing with customers that micro-manage or that have unrealistic expectations.
How do you make money/or how are you compensated?
I charge a monthly rate to board and train the horses. There is a daily charge at each show and a riders fee when prise money is won. We also charge a commission to buy and sell horses.
How much money do Horse Trainers make?
This is based on how good you are or how much you win. The better you are the more horses you get to train from the public.  Top trainers can make $100,000 to $250,000 annually.  Top assistants $30,000 to $50,000 annually.
No one is going to get rich training but it's a great life!
How much money did/do you make starting out as a Horse Trainer?
When I was an apprentice, I starved. After success, I have been comfortable. You must adjust your spending to relate to your income. I have accumulated horses, equipment, property, and more over the years.
The assistant or apprentice makes minimum wage plus housing in most cases.  Sometimes they can make $15 @ hour.  Unfortunately, the nature of the business is long hours and few employers pay by the hour.
What education, schooling, or skills are needed to do this?
I think a good education is a huge advantage. Bookkeeping, organizing, and dealing with clients can be enhanced by a college degree in business and psycology, which were my majors.
What is most challenging about what you do?
Everyday working hard, ups and downs, winning and losing, balancing the budget, and balancing family time.
What is most rewarding?
I love the Western life style, seeing the advancement of the horses, meeting many interesting people, traveling, competing, and all the friends that love horses too.
What advice would you offer someone considering this career?
Many young men and women have come through my program and started careers for themselves. You must apprentice for someone who has the skills and business that you want. Take your time to absorb all you can learn, minimum of 5 years.
How much time off do you get/take?
I take a vacation each year. Usually I take Sunday off if I don't have a show or Monday off if I do have a show on the weekend.
What is a common misconception people have about what you do?
Some think it is all glitz and glamor they see in the winner's circle and overlook all of the sweat and work that got you there.
What are your goals/dreams for the future?
I am living my dream each day! I love helping good people that have the desire to achieve and riding good horses.
What else would you like people to know about your job/career?
My career is not typical in this fast pace world. I get dirty, work hard, it is sometimes dangerous, there are long hours, you must stay very good to make a good living, only 10% of trainers make it to a decent level…but it's a great life!