What do you do for a living?
I'm a pharmacist. Hospital
Pharmacist
.
How would you describe what you do?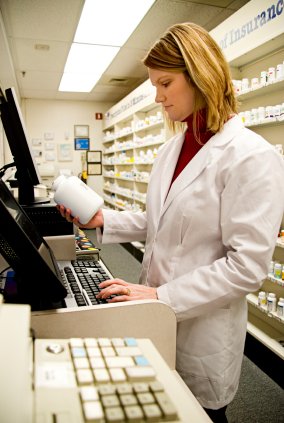 I do order entry of physician orders for the medications that they want to administer in the hospital. There's the patient chart where the doctor will document and write everything that's going on with the patient and all the medications and tests and procedures that he wants done. When a medication is written it is faxed to the pharmacy where a pharmacist will review the patient's allergies, other medications that they're taking, and appropriateness of the dose. We then enter that into a computer system which goes through a pharmacy database and a robot which is linked to that database
There's a lot of difference between a Walgreen's and a hospital pharmacy, and I would work in both before I'd ever think about being a pharmacist.
will fill those prescriptions as well as technicians that work within the pharmacy will manually fill those prescriptions and then distribute them to the right patients.
What does your work entail?
The position which I have is a Float Pharmacist which means that in our hospital, each unit of the hospital, whether it be an intensive care unit or the orthopedic floor or the stroke unit, each floor has a specific pharmacist that covers that area and works with those patients, doctors, and nurses on a regular basis. When one of those pharmacists either has the day off or is sick or for whatever reason, the Float Pharmacist will cover those areas.
Quick Facts!
How much do Hospital Pharmacists make?
The BLS says Pharmacists median pay is $111,000/yr.
Click here
to see how much this pharmacist makes.
How to become a Hospital Pharmacist?
It's a minimum of 6 years of education including 5 years of pharmacy school.
Click here
to see what this pharmacist has to say about the schooling requirement.
So, on any given day, I can be working with any floor of the hospital. For instance, this week I'm going to be covering the neuro-trauma ICU and the surgical ICU areas. That specific position calls me to come in at seven in the morning and I'll leave at 3:30 in the afternoon. I'll come in, I'll go down to the ICU, and I'll go through those reports while entering any orders that come from the physicians. I will answer questions from the nurses. I'll answer questions from the physicians. Some of the questions might be specifically related to the drugs and maybe what's prescribed or side effects, dosing questions, others that are usually given by nurses can
I think it's a really common misconception that a pharmacist is told what to do by the physician and they just do it.
be anything from, Why isn't my medication here? to Can I get a refill on this?. Certain medications have certain things that we have to monitor with their use. There are some medications that we have to monitor specifically. Drugs that are commonly prescribed together can interact with each other so there's reports that have to be reviewed. There's a policy within the hospital that the physician can write a prescription for a medications and the pharmacy is to dose. Which means that the pharmacist is responsible for looking at the patient's kidney function, blood levels for that specific medication, and can change the doses of the medication based on what our opinion is of how they're metabolizing that drug. So, there are certain reports that we have to go through every day.
How did you get started?
I thought that I wanted to do something in health care after I was in college for a couple of years and decided to shadow. I ended up shadowing some nurses, a physical therapist, and occupational therapist and then eventually a pharmacist. I liked what I saw when I shadowed the pharmacist. And the one that I ended up shadowing was the director for a hospital pharmacy in the town that I was going to school at. She offered me a job as a pharmacy technician and then I ended up working in the pharmacy.
What do you like about what you do?
I like that I get to be a member of the health care team and involved with health care in general, but I'm not the type of person that would want to have to deal with the blood and the guts and the gore and the actually physically taking care of the patient. I had considered being a physician but I liked that a pharmacist could work 7:00 to 3:30, probably 95 percent of the time. I'm not on call. I don't get called after work. I have a set salary which is pretty good. If I wanted to go part-time, it's very easy for a pharmacist to go part-time. You can work two 10-hour days and make the same amount of money that a lot of other professions make full-time. I can leave the profession if I had a child and wanted to step out for five years. It would be very easy for me to leave my job and then have no trouble at finding another job when I wanted to go back to it, even though I've been gone for five years.
What do you dislike?
Let's see, I dislike that a lot of the time I'm in front of the computer. I dislike that a lot of it is kind of repetitive tasks, and that depends on what type of pharmacist you are, too. There are pharmacists that are much more clinical and aren't doing those repetitive tasks but the position that I am, I do do a lot of that. I dislike that. It depends where you are and who you happen to be working with, but there are some health care professionals that don't appreciate what a pharmacist can bring to the table. There are those that really do appreciate and acknowledge the knowledge that we have and how we can help them. It kind of depends on where you're working.
How do you make money/or how are you compensated?
I make $46.50 an hour. I get paid hourly, but I don't clock in. So, I'll get paid for a 40-hour week if I happen to be working my regular shifts. If I need to stay an hour late to finish something then I don't get paid overtime for that. But if we are short a pharmacists one evening and they need someone to work five hours of overtime,
If I wanted to go part-time, it's very easy for a pharmacist to go part-time. You can work two 10-hour days and make the same amount of money that a lot of other professions make full-time.
in other words, they ask you to stay late, then I would get paid overtime. But if I'm just finishing something up, then I don't get paid overtime.

How much money do you make as a Hospital Pharmacist?
About $97,000.

What education, schooling, or skills are needed to do this?
To become a pharmacist, it's a minimum of six years of education. Where I went, you had to have a year of prerequisites which were kind of normal prerequisites of Math, English, all of those things. And then it was a five-year pharmacy program. A lot of people have their four-year Bachelor's and then decide to go to pharmacy and it's still five years after that, regardless of if you have a degree or not, you have to spend five years in pharmacy school. That gives you a doctor of pharmacy's degree.
What is most challenging about what you do?
Probably staying current on everything, on all of the changes and all of the new drugs, and all of the changes in the care of treating a certain disease. There's guidelines that change all the time, so staying current on everything is probably the most challenging.
What is most rewarding?
Probably that I can be a part of the health care team and help patients while still being able to have the best of both worlds. Having the best of home life and the best of career life. Your schedule, your pay, and the fact that you're not on call like a physician makes it a lot easier with what's going on at home. There's really not a lot of projects to bring home, work doesn't usually come home with you. Once you leave work, you're done.
What advice would you offer someone considering this career?
I went to school with people that had never worked in a pharmacy and just didn't really know what the pharmacy atmosphere was like. Some people love it and some people would never want to do it. It's really just a personality thing. So, I would work as a technician in a pharmacy, either a retail pharmacy or in a hospital. There's a lot of difference between a Walgreen's and a hospital pharmacy, and I would work in both before I'd ever think about being a pharmacist.
How much time off do you get/take?
It's weird because the hospital has this earned time off system which means that my holiday time, my vacation time and all of my sick time is in one big bank. So, if I don't get sick during the year and I don't have to call in sick, I'll get more days that I can take for vacation time. But I'd say at least two weeks, maybe three. Once you hit five years, you start earning more time off.
What is a common misconception people have about what you do?
That all it is is counting pills and entering in a prescription. That's all a lot of people think a pharmacist does.
What are your goals/dreams for the future?
My goal is to specialize in one area, like all the different floors and units I talked about earlier. My goal is to find an area that I love and to specialize in that and then become a decentralized pharmacist. A decentralized pharmacist just means they're out of that central area, where all the drugs are stored and dispensing occurs, and they'll work on the floor with the doctors and nurses directly.
What else would you like people to know about what you do?
Just that there's a lot of things behind-the-scenes things that goes on in a pharmacist's head, things that we're thinking about, things that we're looking out for when we're looking at a patient and their prescriptions.  I think it's a really common misconception that a pharmacist is just told what to do by the physician and they just do it. There's a lot of evaluating whether or not it's appropriate and then helping the patient monitor their side effects and make sure that they're educated in all the things that they need to be aware of so that if this medication has a bad side effect or causes something that's not supposed to happen, they can tell their physician and get it corrected.